Professor Garfield is a teacher and a worker in the Arena in the series.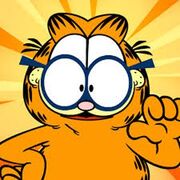 Professor Garfield is beloved by all students, even Star Butterfly. He is noted for teaching the tribes the difference between fact and opinion (though if you ask him if X is a boy or girl is opinion or fact, he awkward blanks out), about internet safety, how cyberbullies get little to no pussy, and how evil of a man John Arbuckle was. Despite this, his classroom is very unsafe, as it full of broken glass, coated with corpses, and has a surprising amount of sperm when you use a blacklight in there.
His assistant is another cat named Dr. Nova, who he regularly has sex with on a daily basis.
Ad blocker interference detected!
Wikia is a free-to-use site that makes money from advertising. We have a modified experience for viewers using ad blockers

Wikia is not accessible if you've made further modifications. Remove the custom ad blocker rule(s) and the page will load as expected.